Bay Paul - Course Logix President
Golf Course Dilemma
How many times have you asked your counter staff to ask for the golfers email address at check in?
For those owners/operators out there who's counter staff are successfully collecting 90% or more of the golfers emails that come through your doors, than you can stop reading and keep up the good work.
For the rest, Course Logix has developed iKiosk®.
iKiosk is a web based app that can be used by an iPad, Android Tablet, any touch screen PC.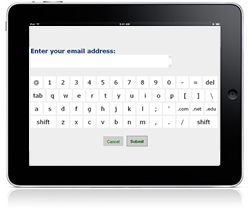 The process is simple. Golfer walks up to the golf counter and types in his or her email address on the iPad touch screen. Their email address is instantly entered into your golfer/e-club database.
Imagine the possibilities.... taking the iKiosk with you to golf shows, and much more.