Bay Paul - Course Logix President
Perception is Reality, Or Is It
Perception is Reality…Or is it
Last fall I was golfing with a client of mine. He owns a premium daily fee course and has seen year over year growth in golf revenues. Things might not be as bad as they seem in this upside down economy. If you asked him how he is doing it, he'll just tell you "I don't wait for business to happen, I make business happen". He's been growing a strong segmented database, he communicates effectively to his customers via email on a weekly basis, and he's automated his outing, membership, and league leads through his website. "Life is good" he says…
He's been making all the right moves from a marketing standpoint, but my question to him is "What do your customers think about your place?" He said "They love it". My next question to him is "how do you know?"
He said "I can't prove it", but we both agreed that customers vote with their wallet, and he's been increasing his profitability every year.
My point is that even if things are going right, it doesn't mean you should get complacent. Successful owners and operators are always tweaking programs and making things better.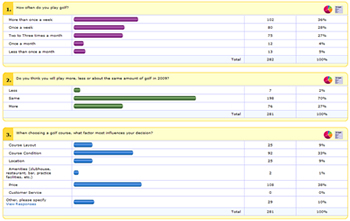 The Problem:
I believe that owners and operators get jaded sometimes when trying to evaluate the golfing experience.
The Solution:
We decided to ask his 5,000+ eclub members what they thought of his facility. We sat down and created a 15 question online survey that touches on customer experience, the value proposition, pace of play, course conditions, course layout, and the overall golfing experience.

We e-blasted the survey to all 5,000+ of his eclub members. Within 1 hour, 424 golfers filled out the online survey. That's an 8% success rate, and he didn't even offer a reward for filling out the survey.


He discovered that customer service at the golf counter was just average, which he was touting to me earlier how great his customer service was. Pace of Play, Course Conditions, and Course Layout were also just average. The good news in "just average" was that he had a "pace of play issue" for years. Last year he really worked on his "pace of play" and he was glad to see he received decent comments about the improvement. We did find out that many people were not happy with the starters and rangers, which was news to the owner, since he spends most of his time in the shop. We also found out that the perceived value was above average, and the overall golfing experience was slightly above average. Each question asked also allowed the golfer to type in individual comments about each area.
I asked the same question at the beginning of this story "What do your customers think about your place?" His answer was "slightly above average".
It's funny how perception is reality at least from a customer stand point, but maybe perception is not reality if you are the owner and/or operator. I'm not saying you should make changes based on some constructive customer feedback, but at least it's on your radar. There is no such thing as the perfect operator, and we all overlook things in our operation. Surveys give us a reality check, which offer us qualitative data to help us make better decisions.